Aadi Pooram is one of the most important festivals of the Tamilians. It is celebrated in the Tamil month Aadi.
This is the birthday of Andal who is believed to be an incarnation of Goddess Laxmi and one of the biggest devotees of the Lord. She is one of the 12 Alwars and is said to be one of the best poetesses.
The Word 'Aadi' signifies the fourth month in the Tamil calendar while 'Pooram' denotes one of the 27 Nakshatras mentioned in the Hindu Astrology.
Andal Story
According to legend a devotee of Lord Ranganatha Swamy by the name of Vishnu Chitha did not have a child for many years.
On the Aadi Pooram day when he was collecting flowers, he found a girlchild. The devotee named her as "Kothai".
When Vishnu Chitha used to prepare a tulsi garland for Lord, Kothai would wear it and then offer it to the Lord.
One day when the devotee saw this he replaced the garland with a new one. But the Lord did not accept the new garland.
That is when Chitha realized that "Kothai" was an incarnation of Goddess Laxmi.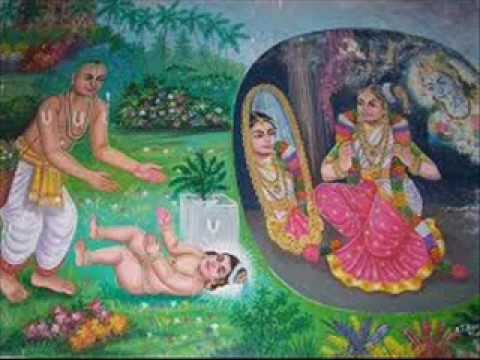 Aadi Pooram (Andal Jayanthi) 2023 Dates
In 2023 Aadi Puram Saturday, July 22
2024 – Wednesday, August 7
2025 – Monday, July 28
The festivities of Aadi Pooram (Andal Jayanthi)
This is a 10-day festival that is held in the temples of Lord Vishnu. During this festival, the marriage of the God and the Goddess is also performed.
It is also said that if unmarried girls worship Goddess "Andal" during this festival then they will get married fast. In some places, this is celebrated as "Valaikaappu" festival for Ambal.
The glass bangles that are offered to Ambal are distributed to women. These bangles are said to bless women with a child and are also said to protect the women from all evil.
On this day women get up early in the morning to make the preparations for the festival. The house is decorated with Kolam (Rangoli or Muggu).
Offerings of lotus flower, red vermilion, and sweet rice or kalkandu are offered to Goddess Andal. A special meal is prepared for the Goddess and that is offered to her.
Devotees will then have it as Prasadam. The festivities go on till late at night. The aarti is done and finally, prasadam is given to all the devotees.
Devotees will read the Thiruppavai on this day. The Lalitha Sahasranamam is also read by the devotees on this day.
*** The Tiruppavai is a collection of thirty stanzas written in Tamil by Andal, in praise of the Lord Perumal.
This is one of the most important festivals, especially for women. They make special preparations mainly to get blessings from the Goddess.
The celebrations are carried out with lots of fervour in many temples of Tamil Nadu and also in many homes in the State of Tamil Nadu.