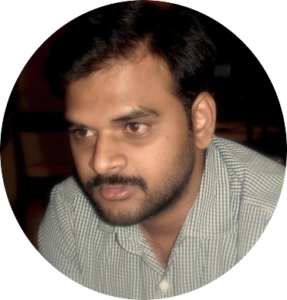 2026
"Failure is a stepping stone to success." This suits aptly with Raj Chappeta, who is a Digital Marketer, Entrepreneur, and Farmer. With a strong vision in his mind and ideas in a bundle, soon after graduation, he tried his luck with a couple of ventures between 2008 and 2015. However, destiny planned it otherwise, luck played hide and seek and his dedication towards work increased manifold. In his words," I don't believe in luck, I believe in smart work, talent, and managing things dedicatedly." This belief was with him all the while when he tried exploring ideas and several sectors to venture in. 
His passion for Food and Agriculture drives him to get into Catering, Event Management, and Retail Businesses. During this setup, he was exposed to a lot of failures and eventually got successful in his prescribed fields. 
Presently his name is etched as one of the most popular digital marketing experts in India. He is the mind behind the 360, all-round Digital Marketing Agency called Clever Magnet. Within years of its inception, the agency started giving momentum to the most popular E-commerce, Real Estate, travel, and FMCG brand in India. 
Behind the back of his mind, the passion for agriculture was always there. With this, he started organic farming in his own 30 acres of farm fields. Besides this, he also seems to run a renowned restaurant in Hyderabad, that serves the most authentic Indian as well as ad organic food. The uniqueness of this farm lies in the fact that all the vegetables and ingredients served in the restaurant are grown on his own farm. 
His reach is not limited to this. With 1 million views on TEDx, his talk has garnered attention from quality audiences across the country. He tends to travel more than 3 months in a year and spent productive time at least 3 months in his farmhouse nurturing his dream, following his passion. 
With a deep concern for the rural area development, he made his mind to start a non-profit organization (NGO) to help poverty-ridden people, students, and the farmers. He believes his one strong step in the right direction can change the lives of many. With this, he tends to follow his heart and work towards uplifting the lives of those who are not aware of how to enhance their standard of living. 
Building a loyal and successful e-commerce business is not an easy task. It should encapsulate several factors like branding, conceptualizing ideas and finalizing an idea into a product. This is where his expertise has developed many ideas into reality, into a well-known brand. His ideas behind logistics and marketing knew no bounds and this remains the testimonial to his successful career. 
Not only does he keep following his dream, he equally keeps developing ideas that can help rural areas to transform into something concrete and sustainable. His journey remains an inspiration to many who believe in hard work and aim for something bigger in life, keeping the roots intact and original.
You can contact me through Contact page or through Sakalam.org Facebook page or through my twitter account.
Stay updated and Stay tuned…!