Vaikasi Visakam, the Tamil festival celebrates the incarnation of Lord Muruga. This festival falls in the Tamil month Vaigasi on the full moon day and in the Vishaka nakshatra.
Vaikasi Visakam 2023 Date
In 2023 Vaikasi Visakam is celebrated on Saturday, June 3.
2024 – Thursday, May 23
2025 – Monday, June 9
Significance of Vaikasi Visakam & Birth of Muruga
The demons Surapadma, Tarakasura, and Singamugha were causing lots of trouble to the gods. The Gods then approached Lord Shiva for help.
Lord Shiva meditated his third eye and formed 6 sparks of fire which were carried by Agni and Vayu to the Ganges. From here the sparks were taken to pond Saravana.
The six sparks were transformed into six babies and then Goddess Parvati embraced and made these 6 babies into one. This was Lord Muruga or Lord Kartika who killed the demons.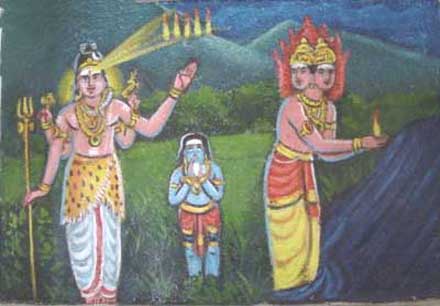 The six faces of Muruga stand for creation, preservation, destruction, involution, supreme grace, and primal source of wisdom.
Festivities on Vaikasi Visakam
It was on the day of Vaikasi Visakam that Lord Muruga decided to end the demon forces and establish law and order.
The festival is a celebration of this manifestation. Lord Muruga temples have a 10-day Brahmotsavam festival. The devotees will carry milk pitchers which are known as Pal Kudam to do Abhishek of Lor Muruga.
Six Murugan Temples, called Arupadai Veedu attract lakhs of devotees on this day and festival celebrated in grandeur.
The devotees will also undertake the task of carrying the Kavadi to the temple of the lord. On the day of the festival homa and pooja are done in the temple. Arti of Lord Muruga is done.
All the rituals are carried out to get the blessings of Lord Muruga. There are temples where the marriage of Lord Muruga and Valli is also done.
It is believed that by watching this ritual all the marital problems will get resolved.
Performing Pooja at home? Then this is what you must do!
The devotees will have an early morning bath and will keep the photo of Lord Murga and decorate it with flowers. Offerings of fruits are made to Lord Muruga.
The devotees chant Subramanya Bhujangam of Adi Sankara.
Pongal which is a sweet delicacy is prepared and offered to Lord Murugan. Hymns like Thirupughazh of Saint Arunagirinathar and Kanda Sashti Kavasam are also recited on this day in homes.
6 Nagalinga flowers and red oleander flowers are offered to the Lord. It is believed that praying to Lord Muruga on this day will remove all obstacles and will bring prosperity to the devotees.
This is one of the biggest celebrations in the Lord Murugan temples. People celebrate the occasion in their homes and also come to the temples and take part in the festivities that are carried out on a large scale with great pomp and reverence.