Putra Ganapathi vratham is observed by childless couple for children. The vrat  is very auspicious and main ritual for telugu people and dedicated to Lord Ganesh.
Putra Ganapathi vratam is also called as Vinayaka Vratham or Vara sidhi vinayaka vratam.
The vrat is observed on the fourth day after Amavasya (Waxing Phase of Moon) in Phalgun month.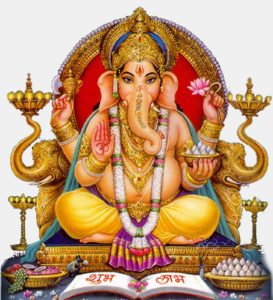 Rituals on Putra Ganapathi vratam
Devotees(Childless Couple) perform Ganesh Puja at home by chanting Ganesh slokas and Ganesh Ashhtothara Shathanamavali. Some devotees perform Archana and Puja in temple and also observe fast on this day by praying Lord Ganesha to be blessed with children.
Ganesh Slokas
Shuklaambara Dharam Vishnum
Shashi Varnam Chatur Bhujam
Prasanna Vadanam Dhyaayet
Sarva Vighna Upashaanthaye
Vakratunda Mahakaaya
Suryakoti Samaprabha
Nirvighnam Kuru Mey Deva
Sarva Kaaryeshu Sarvada
Agajaanana Padmaarkam
Gajaananam Aharnisham
Anekadantham Bhaktaanaam
Ekadantam Upaasmahey
Gajaananam Bhoota Ganaadhi Sevitam
Kapitta Jamboophaala Saara Bhakshitam
Umaasutam Shoka Vinaasha Kaaranam
Namaami Vighneswara Paada Pankajam
Ganaanaam Twam Ganapathi Gam Havaamahe
Kavim Kaveenaam Upamasra Vastamam
Jyeshta Raajam Brahmanaam Brahmanaspatha
Aanashrunvanna Oothibhi Seedha Saadanam